I have been studying intensely why some Real Estate Agents fail and others succeed.  I am here to help you succeed in your career.
This is the path for your success as a Realtor.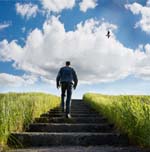 Six months savings in the bank to cover you at a minimum.  Twelve months would be ideal.
Choose the right office to work for—most important criteria is make sure they have a good training and mentoring program for new Agents.  This is absolutely critical and one of the most important requirements for your success in your first two years.
Be Honest.  This is so simple yet so hard for some people.  Be Honest with your customers.  Be Honest with your colleagues.  Be Honest with your manager.  Be Honest with your friends.  Be Honest with your family.  But most importantly, be Honest with yourself.
Care about your customers.  Help your customer get what they want and need and in return you will get what you want and need.  Again, very simple but so hard for some people.  When you truly care about your customers they will know it.  They will value it.   They will share their story of how you helped them.  Be different and make a difference in the lives of your customers in a positive way.
Start working right away.  Don't be afraid.  Conquer your fear.  Call reluctance has killed many careers.  Don't keep making excuses for not calling or getting in touch with your sphere, working floor or hosting Open Houses.  Just start doing it.  Make the calls.  Do the sales activities to get you in front of potential customers.  Don't procrastinate.  Every minute that goes by in the beginning of your career when you're not doing anything makes it so much harder for you to succeed.
Preview–Preview–Preview:  Learn your inventory.  Local market expertise is a learned skill.
Role play with your Managing Broker, Trainer or Colleagues to practice.  The only way you're going to build confidence is by practicing.  You can learn from your mistakes with your colleagues so you're ready once you're face to face with new Clients.
Identify your Competitive Advantage as a Realtor.  What sets you apart from the competition.
Start hosting Open Houses right away.
Commit to your career as a Realtor.  You are a professional.
Put in the work!  This is a job based on showing up everyday at the office when you're new.  Go to work at your office–don't work from home!  Only a small percentage of new Agents do well working from home in their first year.  Dress professionally at the office, look the part.
Start building your internet presence immediately with your blog/website.  Content marketing is a powerful tool to connect with new customers.
Handwrite personal cards to friends and family letting them know about your new job as a Realtor.  Include at least five business cards in each note you send.
Always remember to listen more than you talk when you meet new clients.  The art of listening will help you immensely.  Don't be the stereotypical Real Estate Agent who is always talking, always pushing and so annoying.  Just shut up and listen.  You will be amazed how this will help you develop strong and lasting relationships with your customers.
Start building your database right away–Direct Mail List of your sphere and farm.  Email list (Mail Chimp free when you have less than 2,000 contacts).  Database of your key contacts and champions with phone numbers so you can call.
For your personal life make sure you prepare your spouse, boyfriend, girlfriend, close family that succeeding in real estate is going to take time.  It's going to take you one to two years to build up your business–set the expectation up front before you start.  One of the biggest stresses for a new Agent could be dealing with those closest to you and if they are not supportive or patient this could end your career before it starts.
In your first year start farming a neighborhood or geographic area.
In your first year start building your content marketing engine on your website/blog.
Have fun!  Enjoy your life.  Enjoy your job.  Your enthusiasm will shine through.  Don't be somebody else.  Be yourself, enjoy helping your clients.  Create a positive and memorable experience so when think of you they have good thoughts.
Don't Give Up!!  Never give up!  Day always follows night.  The sun always comes up.  Business always turns as long as you stick with it.
Light Bulb Moment!!  As I go through this list I see all of these action items are within your control.  You can do it!  It's not the market!  It's not your manager!  It's not your colleague down the hall!  It's not your competition!  It's not the weather!  It's you!  Your success is all based on you and what you do with the opportunity you are given.  Don't waste it by playing the blame game!  Look within yourself and be the best Realtor you can be.  You will thank me afterwards.   OK, let's do it together!