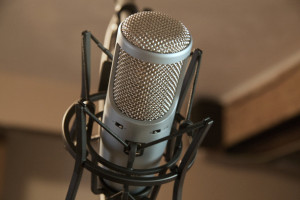 Here are some tips you will find helpful when you are a guest on a podcast.
1.  Test out your Skype program a few days before the interview.  Don't log on to Skype five minutes before the interview if you haven't used Skype in a long time.  A lot of you use Skye frequently so this should not be an issue.
2.  Test out your microphone before the interview.  Don't use the speaker microphone from your lap top.   It will give you an echoey sound and you won't come across well.  If you don't have a good microphone then I recommend this one:  Plantronics USB Headset   It's money well spent because if you're going to be on one podcast there's a good chance you will be on more in the future.
3.  Make sure to show up on time for the interview.
4.  Try to be in a quiet location in a closed room.
5.  Have a glass of water next to you for the interview.
6.  Warm up your voice a little bit before the interview.  Humm.  Practice your Darth Vader voice–"Luke, I am your father."  Breathe from your diaphragm and feel your voice in your chest when warming up.
7.  Remember to breathe during interview.  Try to be in a sitting upright position.  Don't sit and lean over your computer, this will not allow you to breathe smoothly.
8.  Let the host lead you through the interview.  What happens is you get excited and anxious with the first question and a lot of people have a tendency to over-talk and give a ten minute answer to the first question when a three to four minute answer is better.  Remember the host is there to help you and they will guide you through the interview with their questions.  A good host will make you shine since you are the star of the interview.
9.  Tell stories whenever you can–this is what the audience wants and what they will remember.
10.  Share your struggles and challenges and explain how you overcame them.  The host wants to take you on the "Hero's Journey" and show you overcame the obstacles in your career and life.  The audience connects so much more with your struggles and challenges than you just only talking about your successes without giving the story of how you reached your goal.  This is such an important point to get.  A great resource here is Joseph Campbell's book "The Power of Myth" which George Lucas used as a roadmap for the first "Star Wars" movie.
11.  If you have a product or service you want to promote in the interview wait until you're at least 3/4 of the way through the interview.  Don't lead and go into promotion mode too early.   Build the relationship with the audience, let them get to know you and respect you then you can share your product or service and explain clearly the value they offer to the audience.
12.  Remember who your audience is on the podcast.  A good host will tell you this up front so you can add value to the audience based on your expertise.
13.  Listen to at least two other interviews of the podcast to get a sense of the host's style and the mood of the podcast.
14.  This is a simple tip for speaking–try to incorporate the three E's whenever you can–Educate, Entertain and Empower.  This will help you in all of your public speaking.
15.  If you are used to using profanity and cuss words and you want to do so in the interview make sure to let the host know this up front.