A significant number of people ask me:
"How do I find a listing?"
I am going to offer some specific, real, anecdotal ways here.  First, I am going to give you some interesting (I think) personal facts and/or statistics with regard to my experience finding listings.  This is mostly from my experience only, having sold for about ten years since age 24:
I HAVE NEVER, in ten years, signed a listing directly from any contact on FACEBOOK, LINKEDIN, or other social media.
I have never signed a listing directly from a mailer to a FARM AREA.
I have never signed a listing from a lead from ZILLOW or TRULIA.
About 1-2 deals per year for me (almost a negligible amount), come from "FRIENDS;" people whom I regularly associate with.
In ten years, I have received 1 or fewer listing leads per year from vendors whom I use (Title and Escrow companies, Lenders, Inspectors, Contractors, Etc.).
This is not to say these marketing media do not work; they can and definitely do, for some people.  It is safe to say, however, that too many agents rely on the tools above to "hopefully" fill their pipelines.  It is also safe to say many agents spend way, way too much time with these illusory marketing tools (especially when practiced without intent and consistency).
Here are some (surprising?) ways I actually get listings:
1. DRIVING.  Yes, driving.  The statistically significant majority of sellers still hire someone they like and get along with.  These are interpersonal phenomena that require human contact.  When I am stumped for business, I go on slow drives, talk to people, engage them, and let them know I am looking for sellers.  Consider this: who knows about a listing first? Generally, the people who live around that person know for months, or years, in advance.  These people, neighbors, freely offer great market insider information.  Additionally, and importantly, people see my face in the places I want to sell.  I would say this tactic leads to 20% of my business.
2. LISTING BAD PROPERTIES.  This is a joke, kind of.  No property is a bad property, but, if a seller has a unique/tough situation, even having tried to sell, if you can list, market, and sell that property, you develop a perceived "expertise" for that category of sale.  This expertise is referred more than easy, conforming sales.  An example might be a piece of land with wetlands. It might be a little tougher to sell it, but, when you do, you have a specific competitive advantage over other agents for this type of parcel.  I would say this accounts for about 20% of my business.
3. SPECIFICITY.  Many people just ask for referrals.  I ask for specific referrals: "Jim, do you know anyone with a really bad fixer?  I need listings like that right now, they are selling easily in my market."  Or: "Samantha, everyone seems to be calling me for lakefront property right now.  Can you please keep an eye out for lakefront for me?"
I haven't seen a study published on why this might work, but, my hunch is a specific request is more personal, and, requires more thought from the person you are addressing.  As a result, I think it lodges in folks' minds better than "Know anyone selling?"  This probably accounts for about 15% of my business.
4.  ANGER. I love this one. I look for people whom dislike agents, or, had a bad experience.  If they are upset, they really wanted to sell, but didn't. I repeatedly call on people whom have shown angst for real estate practitioners, because I know they have energy for the process.  I would say after someone reacts with anger 3-5 times, they say (about 90% of the time, no kidding):  "You really are persistent, aren't you?"  To which I reply:  "I knew you would come around!"
Ironically, once they come around to trusting you, they generally are the easiest customers to work for.  This is probably only about 5% of my business, but, it's fun so I do it.
5.  SECONDARY QUESTIONING. If you are talking to someone about selling, and, they clearly aren't going to be a customer, take advantage of the fact you have someone in person.  Ask them anything, anything, anything (!), about real estate in their locale with respect to real estate:  "Okay, it's clear you love where you live and are going to stay here for a long time, what's the other coolest house in your neighborhood?"  They may introduce you to that person, for another conversation.  The idea is to be continuously keeping real estate in the front of your, and their, minds. By doing this, you are cultivating a garden of leads.  This is probably about 10% of my business.
Listings do not grow on trees.
Unless, you plant forests.
Plant a listing forest by talking a little longer, asking a little more, and laughing a little harder.  This insignificant amount of extra energy has made all the difference for me, and many other tenured agents.
Good luck!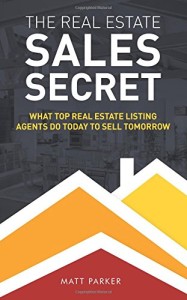 Matt Parker
Keller Williams
Matt Parker is a decorated Seattle-based Real Estate Broker having been voted by customers and peers to be a top agent year after year.  He is a 4-time Five Star Professional, a multiple time national top 10% realtor and has been used for national and local television and print media on NBC, KOMO and the Seattle Times.
Matt is the Author of the New Book "The Real Estate Sales Secret"