Breadcrumbs
In "The Real Estate Sales Secret," I discuss breadcrumbs; little clues or signs of success.
This year I am guessing my company will hire about fifty new agents.  How many of these will have a fruitful, positive, and motivating year?  That's an open ended question, one that I hope is answered with a high number.  It's also a question the answer to which is within your control as an individual at your company.
I have been taking notice of what some of the newer agents are doing to be successful; what breadcrumbs are they leaving?  By successful, I mean not just closing deals, but also looking happy and motivated, living an impassioned life.
Here is what I have been noticing from newer agents who are having good success:
More than anything, I see them actively in my office.  There is no specific time they seem to be here, or even amount of time.  I just see them routinely.
100% of the new agents I am seeing have success emanate humility — they act humbly.  They have not been posturing, vocalizing past success, or "making lots of noise."
Additionally, 100% of the new agents whom are having success have been asking lots of questions.  I see them routinely asking the receptionist questions.  They ask lots of questions of our managing broker.  They ask me lots of questions.  Listening is power, and these people are just soaking up power.
The successful new agents I notice vary in age, race, and even in "look," BUT they all smile routinely.  They all laugh at my jokes too (at least they are faking it!!!).
They are individuals, not having started in a team framework.
They are consistently seen educating themselves, trying to understand things they don't, or, aren't good at.
By no means is this a comprehensive scientific study.  Having said that, I found it interesting, when I thought about the breadcrumbs of successful new agents, that they were all doing the same things.  One of them even signed a nearly $1,000,000 waterfront sale, closing this week (congrats to a dreamer Brian O'Neal!).
In these clues, hopefully there are some areas you see that can and will improve your life and your business.  If people are doing things or behaving in a certain way, and, on a small scale, demonstrating success, other new agents, and, we tenured agents, can learn from them.
Here's to the rookies!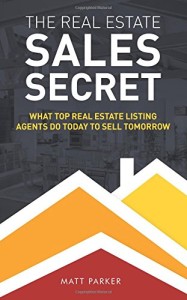 Matt Parker
Keller Williams
Matt Parker is a decorated Seattle-based Real Estate Broker having been voted by customers and peers to be a top agent year after year.  He is a 4-time Five Star Professional, a multiple time national top 10% realtor and has been used for national and local television and print media on NBC, KOMO and the Seattle Times.
Matt is the Author of the New Book "The Real Estate Sales Secret"