So, You Wanna Be a Real Estate Agent… How Much Does it Cost to Go Into Real Estate? Part 2
Guest Post by Jennifer Allan-Hagedorn
I hope you were able to complete your assignment from last week to do an honest assessment of your financial situation.
Today I'm going to help you figure out how much it costs to get INTO real estate and to BE IN real estate on a monthly basis. Of course, any figures you see here are purely estimates and will vary widely depending on the state you live in and the office you eventually work in. And, I'm sure I've forgotten a few items in my list of expenses and perhaps included some that won't apply to you. But I did my best ;-]
Getting INTO Real Estate Expenses
Real Estate School: $500-$1200
Exam, Background Check: $100-$300
Activate Real Estate License: $80
Join the National Association of REALTORS + Local Board: $400 – $700 (annual fee)
Ethics Class: $40
"Initiation" Fee: $1,000 (many franchises don't require this)
Initial business cards: $20-$40
Open House signs: $100+
For Sale signs: $100-$200
Lockboxes: $100-$300
Being IN Real Estate Monthly Expenses:
Desk Fee (If you aren't on a split): $500 – $1700
MLS Fees: $30-$60
Miscellaneous office charges (advertising, copy/printing, voicemail, website): $50 – $400
Contact Management System: $35 – $90
Printing and postage: $100
Website: $50-$100
Of course, you'll also need to factor in the cost of your gas, increased cost of car insurance (since you'll be using your car for business), cell phone charges, health insurance if you aren't covered elsewhere, wardrobe expenses, computer equipment and programs, home office expenses (increased utilities, etc.), and probably other stuff I haven't thought of, but I hope this makes it clear that getting into and staying in real estate isn't something to be taken lightly from a financial perspective.
But here's some good news.
Contrary to what you might hear, you don't have to spend a fortune marketing yourself in your early days – and it's not necessary to purchase every gizmo-gadget and techno-toy available. In fact, the majority of effective marketing for new agents costs nothing or very little. If you enroll in the follow-up newsletter to this one, or in one of our rookie training programs, we'll help you figure out where to spend your precious marketing dollars, but for now, the good news is that you don't have to factor in a significant amount of money for self-promotion in your early days.
So, how do you feel about your financial readiness to enter a real estate career so far? Please feel free to share your thoughts!
Next time we'll talk about a part-time versus full-time real estate career.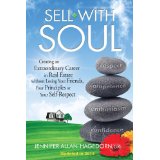 Jennifer Allan-Hagedorn began her writing career after ten years of selling real estate successfully in Denver, Colorado. She was dismayed at the low level of professionalism she frequently encountered in the real estate industry and, with her "soulful" message, hopes to encourage the real estate community to self correct the negative stereotypes of the profession.
Jennifer's message to agents is that they should strive to be competent real estate advisers, rather than competent real estate prospectors. She urges agents to respect the intelligence of their clients, rather than attempt to insult that intelligence with aggressive closing techniques. She preaches that agents should appreciate the significant commissions paid by their clients, rather than complain that they, themselves, are not appreciated.
Allan-Hagedorn is the author of seven books about real estate and one of the industry's most popular bloggers. She is also an avid dog rescuer in the Panhandle of Florida.
To learn more about Selling Real Estate with Soul, visit Jennifer's website www.SellwithSoul.com
"Your First Day as a Real Estate Agent" Online Course Available Now for $39.00